Hyundai Motor Company unveiled the "New Palisade" at the 2022 New York International Auto Show (New York Auto Show) at the Jacob Javits Convention Center in New York, USA.
The new Palisade is the first partially redesigned Hyundai Motor Palisade flagship SUV, introduced in November 2018.
The new Palisade is a large SUV representing Hyundai Motors that, while inheriting the previous model's innovative spatiality, features a grander and more luxurious design, as well as improved competitiveness by adding new enhanced safety and convenience features.
The combination of a wide cascading grille with a single headlight and daytime running light (DRL) resulted in a strong and unified design.
In addition,
△Highway Driving Assist 2 (HDA 2), △Intelligent Speed ​​Limit Assist (ISLA), △Rear Collision Prevention Assist (PCA-R), △Remote Intelligent Parking Assist (RSPA), etc. e. The advanced safety features have been enhanced, such as the addition of features, and it has the driving performance of a flagship large SUV.
"The new Palisade has the allure of Hyundai's flagship large SUV, including new styling, infotainment features, enhanced safety and convenience features, and driving performance," said Olabisi Boyle, head of product planning at Hyundai Motor America. An SUV model that provides comfort in every moment of life."
◇Unique design of the flagship large SUV
The New Palisade inherited the existing Palisade design and added a sense of grandeur and luxury to the flagship model.
The cascaded front parametric screen grille is wider and paired with daytime running lights (DRLs) to give it a more solid look. The vertically connected Palisade-specific daytime running lights are thicker than before and positioned on the outside to visually enlarge the body.
On the side, the front overhang, which is 1
5mm longer than the previous model, lends a sense of stability, while the 18-inch and 20-inch alloy wheels feature a new design. The rear end is finished with a stable and wide skid plate and trailer hitch cover.
The interior is focused on enhancing user experience while enhancing manufacturability.
The new Palisade is based on a 12.3-inch high-definition display and adds practicality by letting you control air conditioning functions such as air conditioners and heaters with a single touch. The main trim creates a three-dimensional feel by increasing the volume, and the lighting recently applied to the crash panel enhances the luxury along with thin and long air vents from the driver's seat to the front passenger's seat.
In calligraphy, the highest finishes, triangular-patterned parametric guard, bright chrome-coloured front grille, and rear skid plate further emphasized the luxurious feel and realized a differentiated premium look.
◇ Equipped with various advanced security and user-friendliness specifications.
Hyundai has also beefed up the enhanced safety features preferred by customers to match its flagship large SUV.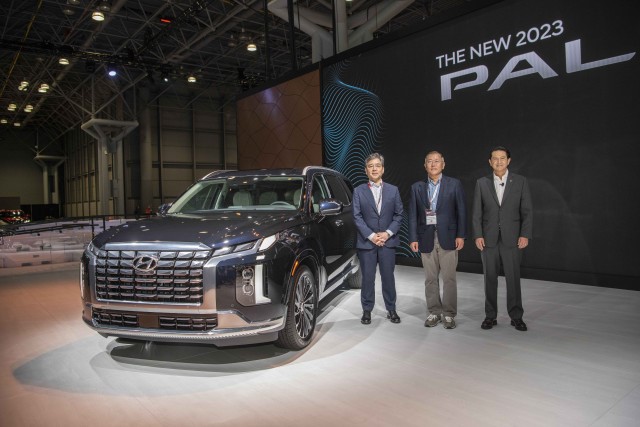 Forward Collision Avoidance (FCA) has added new collision avoidance features for oncoming vehicles, vehicles approaching from the side, and vehicles crossing an intersection.
In addition, △ Highway Driving Assist 2 (HDA 2) for comfortable driving on expressways and car-only roads, △ Intelligent Speed ​​Limit System (ISLA) to help you avoid exceeding the speed limit on the road while driving, △ Parking Collision Rear -Avoidance Assist (PCA-) R) △Remote Intelligent Parking Assistance (RSPA) is newly installed.
Hyundai has improved the passenger experience by focusing on the driver's usability and the spaciousness of the large SUV.
The Digital Center Mirror (DCM), a new specification, combines a camera and a rearview mirror, and when the driver presses a lever at the bottom, it switches from a simple mirror to a digital camera screen, helping to maintain rear view.
It features an Ergo Motion seat that reduces rider fatigue or helps with stretching.
In addition, New Palisade includes △ "Digital Key 2 Touch", which allows you to access your vehicle by tying your Android/iOS smartphone equipped with NFC (Near Field Communication) to the door handle on the outside of the driver's seat without a smart key △ Lock with mobile devices Newly installed built-in camera, which can play video and upload/manage files.
In addition, user convenience has been maximized with △final destination guidance △easy in-car payment △Cartoohome △ballet mode △over the air navigation (OTA) update.
◇Drivability and stability of the flagship large SUV
The new Palisade delivers driving pleasure to users with the HTRAC electronic all-wheel drive system in terms of driving performance to match Hyundai's flagship SUV.
In addition, to improve directional stability, the sides and bottom of the body were reinforced, as well as improved shielding by increasing the thickness of the sound-absorbing material.
The new Palisade is scheduled to launch in Korea in May with two engines combining a 2.2 diesel and 3.8 petrol engine and an 8-speed automatic transmission, and will be launched in the North American market this summer.
Meanwhile, Hyundai Motor Company will prepare a 3,860 m² (approx. 1,170 pyeong) exhibition area at the New York Auto Show until 24th (local time) and, in addition to The New Palisade, at Veloster N TCR. car and production car △Ioniq 5 △Kona EV △ A total of 17 cars are planned to be exhibited, including NEXO △Santa Cruz △Tucson PHEV △Santa Fe PHEV △Kona N △Elantra N.
Choose your car! more than 200,000 vehicles from owners and car dealers in Korea